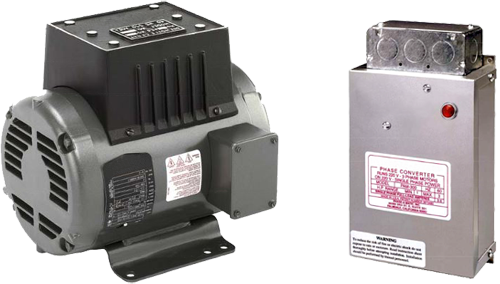 Need three-phase power but only have single-phase available? Is it going to cost tens of thousands of dollars to have your utility run three-phase power to your building?
Phase converters provide three-phase power from single-phase lines at a fraction of the installation and operating cost of running three-phase utility lines to your property.
phase converter features
Runs three-phase equipment at FULL power from single-phase power lines
220V and 460V models available
In stock, ready to ship
Heavily loaded applications
Resistive load applications
Multi-speed applications
Multi-motor applications
Quiet operation
Simple installation
4 Year Warranty
220V and 460V Models
Causes no interference to radio, TV, or computer equipment
Rotary phase converters
For Heavily Loaded Applications; Runs inductive, resistive, transformer and electronic Loads (may require addition of voltage stabilizer); Can run multiple machines simultaneously when sized accordingly. Full power to your machine.
Rotary phase converter technical information (732 KB)
Metalworking and woodworking equipment
Farm equipment
Pumps
Compressors
Elevators
Transmitters
Printing equipment
Food processing equipment
Computers
Sewing machines
Air conditioners
Hoists
Extractors
Wheel balancers
EDM machines
Rectifiers
Lasers
Conveyors
Virtually any three-phase equipment
Static phase converters
Designed especially for running three-phase 220V machine tools and motors from single-phase 220V power
Lathes
Mills
Grinders
Drills
Saws
Metalworking and woodworking equipment
Printing machines and equipment
Sewing machines
Garbage disposals
Food processing equipment
Meat grinders
Dough mixers
Food blenders
Elevator belts
And much more...
CNC phase converters & voltage stabilizers
The CNC converters are designed specifically for three-phase CNC/PLC machines, including AC and DC motor drives or any voltage-sensitive three-phase equipment operating from single-phase power source. When properly sized, CNC converters provide the necessary voltage balance near +/-5% or less between phases compared to standard three phase line voltage of +/-10%. It also helps to keep the output voltage stable during peak loads, thereby helping most CNC/PLC and other voltage sensitive equipment to operate properly.
Provides balanced voltages necessary.for dependable operation of voltage-sensitive equipment
True three-phase sine-wave power at 120 degree phase angle
Intended for indoor use only in dry locations, but can be placed in rain-tight enclosure with ventilation for use in wet or damp applications.
Voltage Stabilizer supplied in NEMA type 1 enclosure with various size knockouts.