Hurricane-Damaged Transformer Repair & Replacement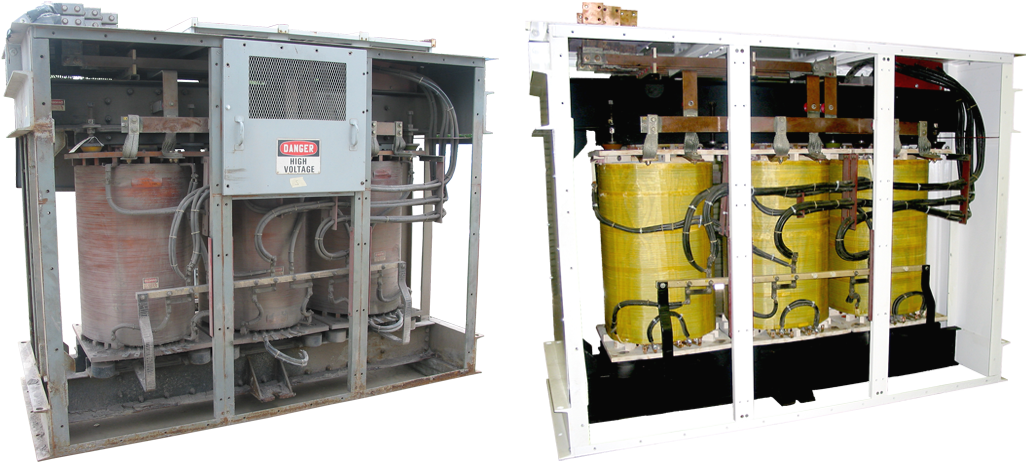 Hurricanes cause tremendous property damage due to powerful, sustained winds, storm surge, and flood waters. Recent hurricanes Harvey, Irma, and Maria are strong reminders of how much damage can be done. Many utility poles with transformers are toppled. Commercial buildings and factories may become flooded with several feet of water.
Most transformers damaged by hurricanes can be repaired or simply reconditioned and put back into service. This is helpful when you need to get your business back up in a hurry. Alfa Transformer can repair or recondition your dry type and oil filled transformers that were affected by flooding, lightning, or wind.
If dry type transformers are de-energized during flooding, they can typically be reused after reconditioning. Our reconditioning process for dry type transformers is outlined below. If the transformer is energized, arcing and failure are likely. The 2000 KVA transformer above was removed from a flooded mine where rising water caused it to fail. We wound new coils and cleaned the silt from the core and core frame. The results are the image on the right. (click image for a larger view)
Oil filled transformers are sealed and can generally survive moderate flooding. However, they should be fully inspected, tested, and cleaned prior to re-energizing. Even pinhole leaks in welds or gaskets can allow water to enter the transformer tank.
typical dry type transformer recondition process
Preliminary testing
If transformer fails any test, customer will be contacted to determine course of action.
If transformer passes all tests, reconditioning process will begin.
Disassemble enclosure (if quoted and received)
Take inventory of broken, defective or missing parts and notify customer
Clean core and coil assembly to remove dust, dirt and other contaminants
Bake core and coil assembly to remove moisture
Replace any broken, defective or missing parts (if approved by customer)
Clean, prime and paint enclosure (if quoted and received)
Final testing
Reassemble enclosure (if quoted and received)
Prepare for shipment
typical dry type transformer repair process
If there is no visible sign of failure, preliminary tests will be performed.
If transformer passes all tests, customer will be contacted to determine course of action.
Disassemble enclosure (if quoted and received)
Take inventory of broken, defective or missing parts and notify customer
Collect data from core and coils
Disassemble core and remove old coils from core
Check core for signs of damage/overheating; notify customer if found
Wind new coils
Bake core and coil to remove moisture
Varnish coils and bake to cure
Install new coils onto core; reassemble core and core frame
Clean, prime and paint enclosure (if quoted and received)
Final testing
Reassemble enclosure (if quoted and received)
Prepare for shipment